Germany World Cup Team Preview
US Sports Betting Industry Expert
6 minute read
---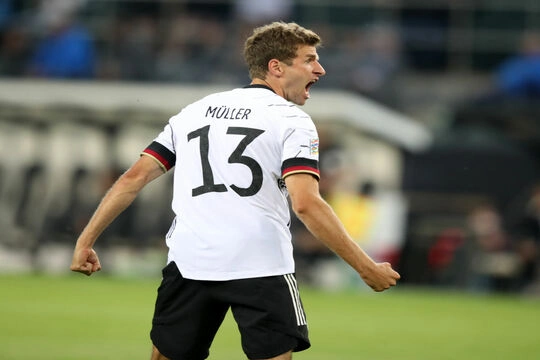 World Cup | Odds | Venues | Groups: A B C D E F G H | Knockout: Rd 16 | Quarterfinals | Semifinals | Finals
CONTENTS
Germany To Win World Cup Odds
If there is one country that is never far from the top of the World Cup odds, it's Germany. Yet for the first time in years, the Germany odds on winning the World Cup are worse than the likes of England and Argentina.
There's an attitude in soccer that you should never write off the Germans. They've won the World Cup four times (3x as West Germany) and have been named European Champions on three occasions too. German soccer fans are used to seeing their nation compete in semifinals and finals, but 2022 could be difficult.
Indeed, the World Cup odds don't make Germany favorites this winter. And head coach Hansi Flick is tasked with rejuvenating a team that has slumped in recent years.
With the likes of Thomas Muller, Marco Reus and Manuel Neuer still on the team, there's plenty of experience to guide Die Mannschaft through to the latter stages of this World Cup. But will they have enough to win it? Let's find out.
Odds Provided by bet365. Accurate as of Aug. 11, 2022 - Subject to Change
The Germany World Cup odds suggest Flick's team has an outside shot of reaching the final. Their odds of +1000 are better than the likes of Denmark, Netherlands and Portugal. But they are far off the favorites England, France and Brazil.
The reason for this is a general decline in results over the past two years. Germany was rumbled by England at the Euro 2020 finals last summer. This year the team endured four straight 1-1 ties – an alarming streak that suggests they cannot dispose of opponents with ease anymore.
One ray of hope is Germany beating Italy 5-2 in a Nations League game back in June. That was a chaotic game, and Italy is suffering from even worse form than the Germans right now. In fact, it's hard to predict what kind of Germany team we will see in Qatar this winter. They could be amazing, or they could fall at the group stage.
Germany Path To Final
Germany's path to the World Cup began with a 3-0 victory over Iceland in their qualifying group. But they didn't have it all their own way. A loss to North Macedonia and a close game with Romania scared some soccer bettor fans who were expecting more from this team. Still, they qualified at the top of their group to progress to the finals.
Pot Draw
For the first time in years, Germany was not in Pot 1 for the World Cup draw. They sat in Pot 2 as the 12th-ranked team, which meant they were also the team everyone in Pot 1 wanted to avoid.
Group Stage
Unfortunately for Spain, they were the unlucky recipients of a group draw with Germany. Group E also features Costa Rica and Japan. Sadly for those latter two teams, it's almost certain that both Germany and Spain will progress. The question is who will win their game, and subsequently top Group E? Betting sites think it's probably Spain.
Potential Knockout Stage Games
Let's assume Germany finishes second in Group E. From here, Flick's team would face the winners of Group F in the last-16. That's likely to be Belgium. Beat them, and they're expected to play Portugal or Switzerland in the quarters. After that, it could be a game against France or England in the semifinals. And if Germany goes all the way, they could meet Brazil in a rerun of the 2002 World Cup final.
Germany Previous World Cup Finishes
Germany has one of the best World Cup records in the history of soccer. The country's national team was split into East and West Germany between 1950 and 1990. During this period, West Germany won three World Cups.
1934 – Third Place
1938 – First round
1954 – Champions
1958 – Fourth Place
1962 – Quarterfinals
1966 – Runners-up
1970 – Third place
1974 – Champions
1978 – Second group stage
1982 – Runners-up
1986 – Runners-up
1990 – Champions
1994 – Quarterfinals
1998 – Quarterfinals
2002 – Runners-up
2006 – Third place
2010 – Third place
2014 – Champions
2018 – Group stage
Germany Golden Boot Odds
Odds Provided by bet365. Accurate as of Aug. 11, 2022 - Subject to Change
Germany World Cup FAQ
Has Germany qualified for the World Cup?
Yes. Germany qualified for the World Cup after topping their qualification group. They won nine of their 10 qualifying games.
Why Is the World Cup In November?
The World Cup is being held in November and December because summer temperatures in the host nation of Qatar are too hot to play soccer in.
Will Muller play in the World Cup?
Thomas Muller is expected to play for Germany in the World Cup this winter. Muller won the World Cup with Germany in 2014 and has scored 10 goals for his country in these finals.
Will Germany reach the World Cup final?
Perhaps. Germany is an outside shot in the soccer betting odds to reach the World Cup final. The nation crashed out in the group stage last time.
Who is in Germany's World Cup group?
Germany will compete in World Cup Group E alongside Spain, Costa Rica and Japan.
We may be compensated by the company links provided on this page.
Read more