UFC
Last Updated Aug 30, 2021, 13:44 PM
UFC 264: McGregor vs. Poirier 3 Props & Predictions
July 6, 2021

by Adam Lykkesteen
UFC Expert
VegasInsider.com
Saturday's UFC 264 card has 13 expected bouts on tap and while a lot of the betting action will be on the sides and total round betting markets, there is also plenty of value in the "Props" Betting Markets.
What are the most popular Prop Markets for UFC 264? Listed below are more than a handful of betting opportunities available for the McGregor vs. Poirier 3 card.
Method of Victory
Method & Round Combo
Round Betting
Double Chance
How fight will End
Will the fight go the distance?
For this week's UFC 264 card, I believe that I've found 5 "Best Bets" in the above Props Betting Markets and a few of them bring back some generous returns!
Good Luck with all your wagers and be sure to check out ESPN+ and ESPN PPV to stream and follow your action on Saturday.
1) DUSTIN POIRIER BY KO/TKO
Poirier got the better of McGregor in the last fight, stopping the Irishman halfway through the second round with devastating blows to the head. This time 'round, I think Poirier has a good chance of winning that same way again.
McGregor's whole game is built around going forward and engaging with his opponent, which will allow Poirier to counter him in different ways again. The leg kick might still be there in this fight, as well as counter hooks up top, which Poirier had some success with in the last bout.
Poirier also appears to be the more durable fighter of the two, eating everything McGregor threw at him earlier this year.
Once Dustin smells blood in the water, he is one of the best at ending fights. That won't change for his rubber match against McGregor.
Currently the Poirier by KO prob is priced at +190 at FanDuel.
UFC 264 Best Bets
UFC 264 Popular Betting Resources
2) CONDIT-GRIFFIN GOES THE DISTANCE
Both men involved in the UFC 264 featured prelim this Saturday are extremely tough chinned and savvy in the octagon. Condit is a lifelong MMA striking specialist, and Griffin is a very hard-headed fighter.
At this stage of his career, Condit doesn't go for the kill as much as he used to, and that is one of the main reasons why this play makes sense. Griffin will have a hard time finishing Condit, and Condit will have a hard time finishing Griffin. All in all it'll make for a fun fight with good shots landed from both guys, but it will go the distance.
Condit has gone the distance in his last two wins, and Griffin has won by KO in his last two, which just adds value to this prop.
Condit vs. Griffin to go the distance is currently priced at -180 at FanDuel.
3) GREG HARDY BY DECISION
For a heavyweight, Hardy is quite good at staying out of danger and picking his opponents apart. He is athletic for his size, and moves in and out quite well.
His five-inch reach advantage will also allow him to stay out of range of Tuivasa's shots.
As with most heavyweight fights at this level, the likelihood of a finish significantly decreases once the first round is in the bank. If Hardy can survive the first five minutes, he has a good probability of winning a decision.
Hardy has gone the distance three times in his last five fights.
Get Hardy by decision at odds +375 at BetMGM.
4) SEAN O'MALLEY BY KO/TKO
Sean O'Malley takes on sacrificial lamb Kris Moutinho.
If you watch O'Malley's highlight reel, you know what the guy is capable of.
He has dynamite in his hands, and can finish a fight in an instant.
Moutinho is making his debut, which gives us some statistical significance on O'Malley because debutants don't usually do that well in the UFC.
Put this together with the fact that O'Malley is extremely talented, and you can pretty much make out how this fight is going to go down.
Moutinho has been finished in all of his MMA losses.
While the price is a little rich, O'Malley at -250 (Bet $100 to win $40) is a no-brainer for me at FanDuel.
Sean O'Malley has watched three of his last four victories end by KO or TKO, two of them coming in the first round. (AP)
ESPN+ subscribers can get a discount on UFC 264 via ESPN PPV
5) RYAN HALL BY SUBMISSION
Hall isn't getting a lot of respect with this betting line, but let's take advantage of that.
Topuria is only 2-0 in the UFC, yet he is the heavy favorite over a 4-0 fighter who absorbs almost zero strikes per minute when he fights. That's not right.
Hall's claim to fame is his grappling skills, especially his submission abilities. Topuria might be a good grappler, but there are levels to the ground game, and I think Hall destroys Ilia in a grappling match.
Hall's layoff adds value to our play here, but I never put too much into that sort of thing. After all, he is the more experienced fighter, so maybe that evens out the ring rust disadvantage.
Bet on Ryan Hall to beat Ilia Topuria via submission at odds +650 at FanDuel.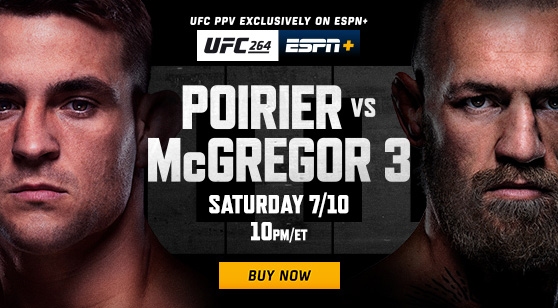 Props Betting Odds Subject to Change - per FanDuel & BetMGM.
We may be compensated by the company links provided on this page.
Read more