UFC
Last Updated Aug 30, 2021, 13:44 PM
UFC 264: McGregor vs. Poirier 3 Preliminary Card Picks, Predictions
July 5, 2021

by Adam Lykkesteen
UFC Expert
VegasInsider.com
Prior to the main card for UFC 264, the T-Mobile Arena in Las Vegas, Nevada will be buzzing with four preliminary bouts and there is some great value bets on the board.
The prelims are scheduled to begin at 8:00 p.m. ET and ESPN+ will be offering up Live Streaming coverage of the four fights.
UFC 264 Best Bets
Preliminary Card
Welterweight Bout: Carlos Condit (+165) vs. Max Griffin (-200)
Welterweight Bout: Niko Price (+130) vs. Michel Pereira (-155)
Featherweight Bout: Ilia Topuria (-250) vs. Ryan Hall (+195)
Middleweight Bout: Dricus du Plessis (-120) vs. Trevin Giles (+100)
Check out all the fights on ESPN+
UFC 264: McGregor vs. Poirier 3 Featured Preliminary Bout
Welterweight Bout


Max Griffin vs. Carlos Condit

The veteran and UFC welterweight legend Carlos Condit versus the tough-chinned Max Griffin. At this point it's not right to call Griffin an up-and-comer anymore as he is 11 fights into his UFC career, with only five wins.

The legendary Condit hasn't exactly been at his best as of late either, going 4-6 in his last 10, but he has picked up two straight wins in a row coming into this fight, and it seems like the veteran might have found his way back to where he once was - a frightening striker with a steel chin.

While you could have wished for a big age advantage for Max Griffin, given he has half as many UFC fights as Condit, these guys are actually the same age.

For either fighter, this matchup is tailor made to serve as a good win for two inconsistent UFC resumes, yet Condit comes across as the better fighter when I match them up in my head.

Condit's striking has never gone away, it is because of his lackluster grappling he has been looking to the younger guys. Now, he faces a guy who will stand and trade with him on his own terms, in a fight that promises very little grappling. What is not to love for Condit?

After all, he has the more proven resume, and better striking numbers.

Condit has also never been knocked out which is a big trait when you're up there in age and have been facing young prospects. He knows how to compete and win striking battles and has been doing it for years.

Prediction: Carlos Condit (+165) def. Max Griffin
Carlos Condit is listed as a healthy underdog for Saturday's matchup against Max Griffin at UFC 264. (AP)
Welterweight Bout


Niko Price vs. Michel Pereira

This is going to be a banger for sure. I foresee this being the fight of the night.

Both guys are power strikers, with Pereira being the more technical striker, when he's not flip flopping around the octagon and emptying his gas tank. Based on his last performance, it seems Pereira has toned the showmanship down a bit, and now focuses more on actually getting his hand raised.

His newly formed fighting style also allows him to actually win going the distance, which is big in this fight.

Price is a brawler by heart, and takes one to give one. His fighting style has given him a memorable highlight reel, while also leaving him at the receiving end of some nasty KO losses.

Niko usually has most success against guys where he successfully can break their composure with his forward pressure and volume, however against Pereira that won't work.

Pereira has shown a more technical side of himself in recent outings, and his striking numbers tell me he is better at hitting his opponents without getting hit back. Price has a negative strike differential.

Pereira could get the knockout, but finish or no finish I see Pereira getting the 'dub this Saturday. He is just more composed and technically sound.

Prediction: Michel Pereira (-155) def. Niko Price
UFC 264 Popular Betting Resources
Featherweight Bout


Ryan Hall vs. Ilia Topuria

Prospect versus prospect. These fights are quite rare in the UFC, especially when the prospects involved are so good.

Ryan Hall is a submission specialist whose grappling abilities might be unmatched by anyone in the division. He prefers using his striking as a setup to his takedowns, and doesn't look to do damage on the feet. It's mostly volume striking with little intent to kill.

Topuria is a gifted grappler too, but he actually has a killer instinct when he strikes. He won his last fight by knockout.

While Hall is the more proven fighter, with four UFC bouts to Ilia's two, Hall's lengthy layoff makes me lean towards Topuria.

Hall hasn't stepped in the cage in two years, and you can only wonder how rusty he will be in there come Saturday.

On top of everything, the competition Hall has been facing hasn't really exposed his supposed one-sided fighting style. I'd like to see how Hall reacts to a powerful striker that can stop his grappling.

I don't think it ends well for Hall. Topuria has a larger toolbox, and he's not as rusty.

Prediction: Ilia Topuria (-250) def. Ryan Hall
Middleweight Bout


Trevin Giles vs. Dricus Du Plessis

Trevin Giles has picked up three wins in his last three outings, yet his poor fighting IQ continues to boggle my mind every time he steps in the cage. In his last fight it was most apparent, as he faced a grappler whom he consistently took to the ground, resulting in a decision win that was much closer than it should have been.

Giles is a sound striker though, and when he doesn't get cocky and drop his hands he can hang with most guys outside the top 10.

Unfortunately for Giles, Plessis is better at striking than him. His pressure and power is at a different level, and Giles usually takes the first round off to get going.

Giles' aforementioned poor fight IQ will not get him through this fight unscathed, and if he starts shooting panic takedowns when fatigued, Plessis is going to catch him with something big.

Plessis has a 100% finish rate, and I don't see him going the distance here.

Prediction: Dricus Du Plessis (-120) def. Trevin Giles

Odds & Bouts Subject to Change - per BetMGM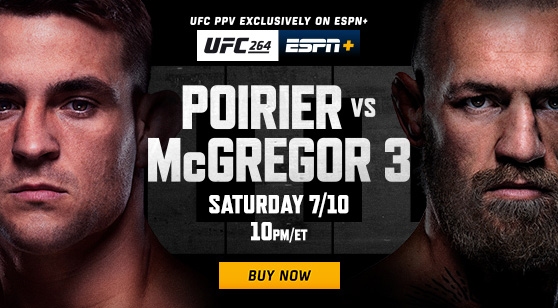 We may be compensated by the company links provided on this page.
Read more