NCAAF
Jun 08, 2022
SUGAR BOWL HISTORY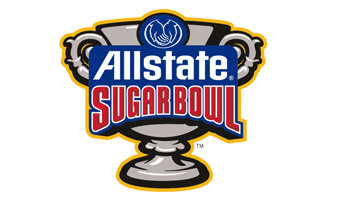 The Sugar Bowl started in 1935 and the matchup currently features schools from the Southeastern Conference (SEC) and at-large conferences. The game takes place at the Mercedes-Benz Superdome in New Orleans, Louisiana as the previous venue for this contest was Tulane Stadium in New Orleans from 1934-1974. This game was named the USF&G Sugar Bowl and Nokia Sugar Bowl prior to Allstate acquiring sponsorship rights in 2007. 
The SEC has won two of the past three encounters in the Sugar Bowl, which includes Georgia's 26-14 win over Baylor in the 2019 installment.
The Sugar Bowl is part of the College Football Playoff rotation and was part of two semifinal matchups played in 2014 and 2018.
In Jan. 2021, Ohio State roughed up Clemson by a 49-28 score to punch their ticket to the national title game, a rare 'over' result lately in the Sugar Bowl.
In the Jan. 1, 2022 game between Baylor and Ole Miss, the Bears knocked out Rebels QB Matt Corral early, and then used its defense for a 21-7 low-scoring win. The 'under' is now 6-1 across the past seven Sugar Bowls.
Alabama 24 Clemson 6
Ohio State 42 Alabama 35
Ohio State 49 Clemson 28
| | | | |
| --- | --- | --- | --- |
| Year | Matchup | Spread, Totals | ATS Result |
| 2019 | Georgia 26 Baylor 14 | Georgia -3.5, 44 | Favorite, Under |
| 2018 | Texas 28 Georgia 21 | Georgia -13, 60 | Underdog, Under |
| 2017 | Alabama 24 Clemson 6 | Alabama -3.5, 47 | Favorite, Under |
| 2016 | Oklahoma 35 Auburn 19 | Oklahoma -2.5, 66.5 | Favorite, Under |
| 2015 | Mississippi 48 Oklahoma State 20 | Mississippi -8, 70.5 | Favorite, Under |
| 2014 | Ohio State 42 Alabama 35 | Alabama -7.5, 57.5 | Underdog, Over |
| 2013 | Oklahoma 45 Alabama 31 | Alabama -17, 52 | Underdog, Over |
| 2012 | Louisville 33 Florida 23 | Florida -14.5, 47.5 | Underdog, Over |
| 2011 | Michigan 23 Virginia Tech 20 (OT) | Michigan -3, 52.5 | Push, Under |
| 2010 | Ohio State 31 Arkansas 26 | Ohio State -3, 57.5 | Favorite, Under |
| 2009 | Florida 51 Cincinnati 24 | Florida -12.5, 59 | Favorite, Over |
| 2008 | Utah 31 Alabama 17 | Alabama -9.5, 46.5 | Underdog, Over |
| 2007 | Georgia 41 Hawaii 10 | Georgia -8, 68.5 | Favorite, Under |
| 2006 | LSU 41 Notre Dame 14 | LSU -8.5, 56 | Favorite, Under |
| 2005 | West Virginia 38 Georgia 35 | Georgia -7, 47 | Underdog, Over |
| 2004 | Auburn 16 Virginia Tech 13 | Auburn -6, 44 | Underdog, Under |
| 2003 | LSU 21 Oklahoma 14 | Oklahoma -6, 47 | Underdog, Under |
| 2002 | Georgia 26 Florida State 13 | Georgia -7.5, 49.5 | Favorite, Under |
| 2001 | LSU 47 Illinois 34 | LSU -2, 60.5 | Favorite, Over |
| 2000 | Miami, Fl. 37 Florida 20 | Miami -6, 58.5 | Favorite, Under |
| 1999 | Florida State 46 Virginia Tech 29 | Florida State -6, 49.5 | Favorite, Over |
| 1998 | Ohio State 24 Texas A&M 14 | Texas A&M -12, 49.5 | Underdog, Under |
| 1997 | Florida State 31 Ohio State 14 | Florida State -7, 47.5 | Favorite, Under |
| 1996 | Florida 52 Florida State 20 | Florida -3.5, 54.5 | Favorite, Over |
| 1995 | Virginia Tech 28 Texas 10 | Texas -2.5, 45 | Underdog, Under |
| 1994 | Florida State 23 Florida 17 | Florida -1.5, 54.5 | Underdog, Under |
| 1993 | Florida 41 West Virginia 7 | Florida -6.5, 54.5 | Favorite, Under |
| 1992 | Alabama 34 Miami, Fl. 13 | Miami -8, 36 | Underdog, Over |
| 1991 | Notre Dame 39 Florida 28 | Florida -6.5, 52.5 | Underdog, Over |
| 1990 | Tennessee 23 Virginia 22 | - | - |
| 1989 | Miami, Fl. 33 Alabama 25 | - | - |
| 1988 | Florida State 13 Auburn 7 | - | - |
| 1987 | Auburn 16 Syracuse 16 | - | - |
| 1986 | Nebraska 30 LSU 15 | - | - |
| 1985 | Tennessee 35 Miami, Fl. 7 | - | - |
| 1984 | Nebraska 28 LSU 10 | - | - |
| 1983 | Auburn 9 Michigan 7 | - | - |
| 1982 | Penn State 27 Georgia 23 | - | - |
| 1981 | Pittsburgh 24 Georgia 20 | - | - |
| 1980 | Georgia 17 Notre Dame 10 | - | - |
| 1979 | Alabama 24 Arkansas 9 | - | - |
| 1978 | Alabama 14 Penn State 7 | - | - |
| 1977 | Alabama 35 Ohio State 6 | - | - |
| 1976 | Pittsburgh 27 Georgia 3 | - | - |
| 1975 | Alabama 13 Penn State 6 | - | - |
| 1974 | Nebraska 13 Florida 10 | - | - |
| 1973 | Notre Dame 24 Alabama 23 | - | - |
| 1972 | Oklahoma 14 Penn State 0 | - | - |
| 1971 | Oklahoma 40 Auburn 22 | - | - |
| 1970 | Tennessee 34 Air Force 13 | - | - |
| 1969 | Mississippi 27 Arkansas 22 | - | - |
| 1968 | Arkansas 16 Georgia 2 | - | - |
| 1967 | LSU 20 Wyoming 13 | - | - |
| 1966 | Alabama 34 Nebraska 7 | - | - |
| 1965 | Missouri 20 Florida 18 | - | - |
| 1964 | LSU 13 Syracuse 10 | - | - |
| 1963 | Alabama 12 Mississippi 7 | - | - |
| 1962 | Mississippi 17 Arkansas 3 | - | - |
| 1961 | Alabama 10 Arkansas 3 | - | - |
| 1960 | Mississippi 14 Rice 6 | - | - |
| 1959 | Mississippi 21 LSU 0 | - | - |
| 1958 | LSU 7 Clemson 0 | - | - |
| 1957 | Mississippi 39 Texas 7 | - | - |
| 1956 | Baylor 13 Tennessee 7 | - | - |
| 1955 | Georgia Tech 7 Pittsburgh 0 | - | - |
| 1954 | Navy 21 Mississippi 0 | - | - |
| 1953 | Georgia Tech 42 West Virginia 19 | - | - |
| 1952 | Georgia Tech 24 Mississippi 7 | - | - |
| 1951 | Maryland 28 Tennessee 13 | - | - |
| 1950 | Kentucky 13 Oklahoma 7 | - | - |
| 1949 | Oklahoma 35 LSU 0 | - | - |
| 1948 | Oklahoma 14 North Carolina 6 | - | - |
| 1947 | Texas 27 Alabama 7 | - | - |
| 1946 | Georgia 20 North Carolina 10 | - | - |
| 1945 | Oklahoma State 33 St. Mary's (CA) 13 | - | - |
| 1944 | Duke 29 Alabama 26 | - | - |
| 1943 | Georgia Tech 20 Tulsa 18 | - | - |
| 1942 | Tennessee 14 Tulsa 7 | - | - |
| 1941 | Fordham 2 Missouri 0 | - | - |
| 1940 | Boston College 19 Tennessee 13 | - | - |
| 1939 | Texas A&M 14 Tulane 13 | - | - |
| 1938 | TCU 15 Carnegie Tech 7 | - | - |
| 1937 | Santa Clara 6 LSU 0 | - | - |
| 1936 | Santa Clara 21 LSU 14 | - | - |
| 1935 | TCU 3 LSU 2 | - | - |
| 1934 | Tulane 20 Temple 14 | - | - |